Scarlet welcomes its first residents (and pet bunnies)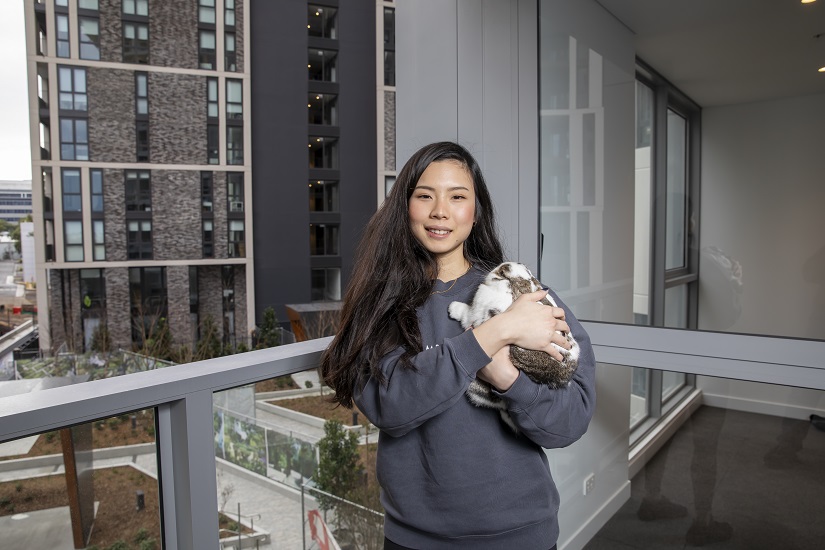 ---
She was the first to secure an apartment when Mirvac launched Pavilions at Sydney Olympic Park in March 2017 and now first home buyer Marissa Li has scored another first.
---
The apparel designer was also the first to settle on her apartment in Scarlet, the tallest building at Pavilions, standing 35 storeys high.

The three year wait to claim the keys to her first home, after buying off the plan with a 5% deposit through Mirvac's The Right Start initiative, enabled Marissa to be disciplined in her saving, ensuring she was able to pay the remaining 5% deposit in instalments. And now that she is leaving her rented Wolli Creek apartment she will be paying $100 a week less on minimum mortgage repayments than she was on rent.

There are other savings ahead, too, as she ditches the long commute from Wolli Creek to her job at Rhodes Business Park where she designs Rebel Sport's private label Ell&Voo range of apparel. With a Brompton folding bike her most important new home purchase, she'll be cycling to work from now on and exploring Sydney Olympic Park's many bike trails on the weekends.

After an exhausting Saturday spent moving in to Pavilions, Marissa and her boyfriend David Armsden were looking forward to spending their first night in their own home and making sure their two pet bunnies Reili and Yumi were settled in to their new environment.

When Marissa began looking for her first home three years ago, The Right Start gave her the opportunity to get her foot in the door with a low deposit and ahead of investors. With reassurance from a family member who had bought at Mirvac's Harold Park development she felt confident about buying off the plan.

---
"As someone starting out, buying at Pavilions through The Right Start made a lot of sense to me," says Marissa. "I knew it was the only way I could afford to buy and have a few years to save. If I have a set goal I can save towards that, instead of waiting and only saving a bit here and there."
---
Marissa has had plenty of time to consider whether she made the right decision to buy and is adamant she has no regrets. "I am 110% pleased that I bought," says the 27-year-old. "I guess you always doubt yourself but I'm much happier to be paying off a mortgage than money in rent."

Marissa's happiness with her move is not confined to financial concerns but also the ability to live a more sustainable lifestyle.
"I try my best but if the development can lead the way, that fits into my lifestyle," says Marissa. "The sustainability at Pavilions is very appealing for me. The toilet and laundry use recycled water and the bins are designed so that recyclable waste is separated. I have my Brompton bike and I'm thinking about selling my car and just using the car share that is available at Pavilions when I need it."
---
With a selection of apartments exempt from stamp duty for first home buyers, and luxury homes with views to Sydney CBD, now it the perfect time to join the Pavilions Community.