Downsizing by Degrees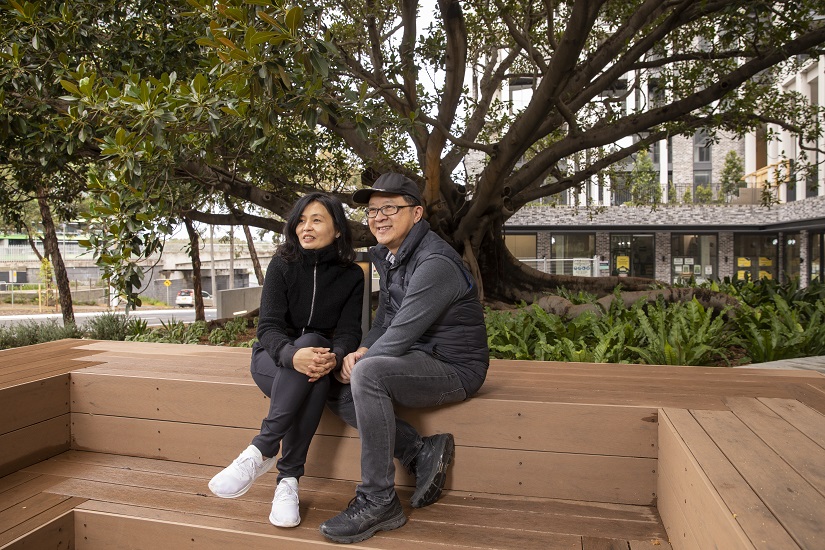 ---
When Adam and Helen Tedja move into their luxurious three-bedroom apartment at Pavilions Residences they made a firm promise to each other. No more house moves.
---
With a clear view of the Anzac Bridge, Gladesville Bridge and Sydney Harbour Bridge from their 9th floor apartment, it's easy to see why they might want to stay put.
The couple took the first step towards a simpler lifestyle when they sold their large Roseville Chase home on 2100sqm with a pool and tennis court, moving into the multi award winning Mirvac community, Brighton Lakes, in 2016.
And while they loved the golf resort lifestyle and having a smaller garden to tend, the five-bedroom house was still too large for a couple whose two adult children had long left home.
When Pavilions was launched in 2017, they saw an opportunity to take the next step in their downsizing – or right sizing - strategy.
Now happily installed at Pavilions, Adam and Helen have lost no time settling into the Olympic Park lifestyle.

They bought e-bikes that allow them to get some exercise with a little bit of assistance and have explored many of the Park's mostly flat bike trails. Sunday mornings will often see them heading off to Wentworth Point or even Parramatta for a ride and a leisurely breakfast.
The walks have also been a revelation with Helen's friends from her years living at Roseville Chase now part of an informal walking group exploring Sydney's geographic heart.
---
"One of the greatest things about Olympic Park is the flat land, something that I don't find anywhere else," says Adam. "We took up bike riding and it's nice to be able to ride very easily from Bicentennial Park to Rhodes, Wentworth Point even Parramatta. We do it every weekend and you begin to realise how convenient it is to everywhere. It is right in the centre of greater Sydney."
---
Over the years, the successful business couple have accumulated a substantial property portfolio. In addition to Brighton Lakes and Pavilions, Adam and Helen also bought at The Moreton by Mirvac at Bondi, and helped their son choose his first home at Marrick & Co.
They have bought and sold many apartments over the years, not always with great success. "We have made a lot of mistakes but we learn from them," says Adam. "Some were massive disasters and after that we decided to stick with Tier 1 builders.
"What I love most about our apartment at Pavilions is the quality. It is beautifully made. It makes a huge difference knowing that when you walk into a place the quality is consistent."
---
With a selection of apartments exempt from stamp duty for first home buyers, and luxury homes with views to Sydney CBD, now it the perfect time to join the Pavilions Community.