Countdown to completion as Pavilions reaches 35th floor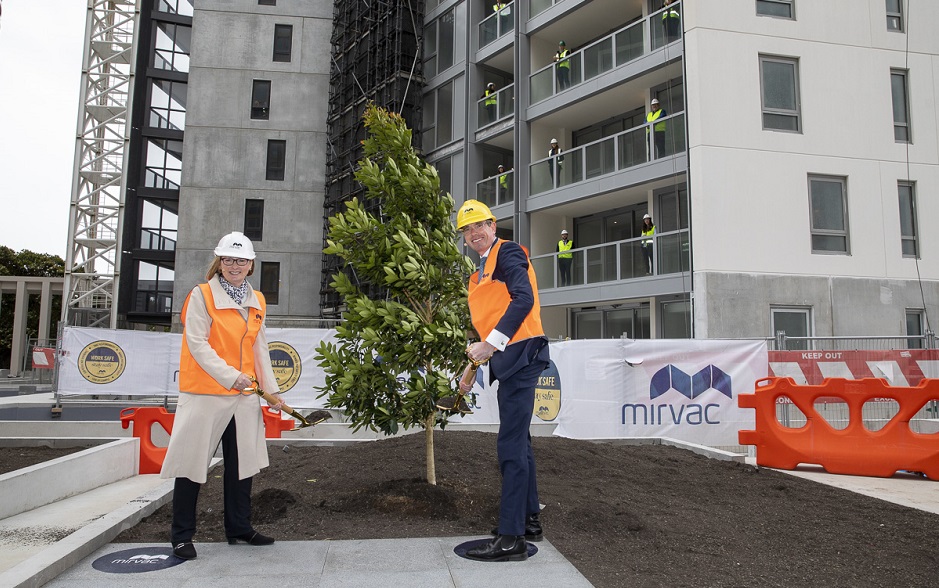 The topping out of Pavilions at Sydney Olympic Park last Friday provided a worthy excuse to celebrate the milestone and reflect on how much has been achieved since construction began more than three years ago.
We held a physically distanced topping out, the first of its kind, which saw the planting of a tree, not from the rooftop of the Pavilions, as is usual custom but in the ground. The Mirvac staff that have worked on the project were positioned on the internal balconies facing the courtyard so they could still be a part of the formalities.
We have now reached the 35th floor of Scarlet, the tallest of four buildings at Pavilions and while our construction teams have been busy adding floors, they have also been completing the fit-out of the levels below. The countdown is on to completion in mid-2020, on time, despite construction teams having to adapt to new COVID-safe work practices.
The topping out, led by Mirvac Managing Director and CEO Susan Lloyd-Hurwitz, with the NSW Treasurer Dominic Perrottet at her side, allowed a sneak peek of the courtyard under construction. Deep planter boxes are in and planting of advanced trees is underway, setting the scene for the beautifully landscaped 4,500sqm space that will be a green haven for future residents.
So much has changed since Pavilions first came out of the ground three years ago. And with our sales office once again open, you are warmly invited to come see for yourself.