Early works begin on Metro West
Thursday, 28 May 2020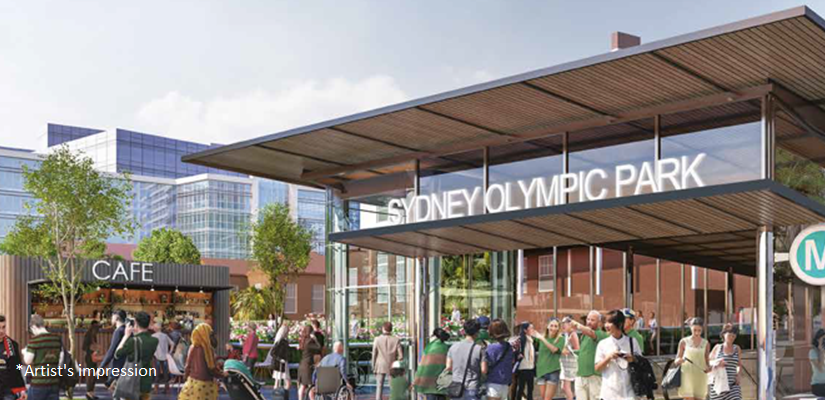 ---
Planning documents for Sydney Metro West, the fast and frequent rail service that will transform Sydney Olympic Park, were put on exhibition for public comment earlier this month.
---
The Environmental Impact Statement for Stage 1 Works and Concept includes civil construction works, station excavation and tunneling for the 24km underground line that will connect Parramatta to the Sydney CBD in just 20 minutes.
NSW Minister for Transport Andrew Constance has described Sydney Metro West as a once-in-a-century project which will forever change how we get around Sydney.
"It's been almost 100 years since the Harbour Bridge transformed Sydney. Now this underground Metro is going to be the modern day game changer for our city, serving us for decades to come," Mr Constance said.

Delivery of Sydney Metro West is expected to ease overcrowding on existing train lines and stations, with faster journeys and less waiting time. It is also expected to reduce road congestion with the Metro service able to move 40,000 people an hour between Westmead and the Sydney CBD, replacing thousands of cars on the road.
As Sydney plans its recovery from the economic impact of COVID-19 shutdowns, construction of the Metro line is expected to create more than 10,000 new direct jobs and 70,000 indirect jobs. On completion, the line is expected to generate an extra 595,000 jobs.
Mirvac's General Manager of Residential Development in NSW Toby Long said the momentum now evident around Sydney Metro West was a positive sign that the NSW Government remained committed to delivering vital infrastructure.
---
"The Greater Sydney population is forecast to grow to around 6.4 million people by 2036 and Metro West is critical to ensuring new communities are connected by a fast, modern transport system," said Mr Long.
---
"The Parramatta to Sydney corridor includes the health, education and research precinct at Westmead, the growing commercial centre of Parramatta and the planned innovation and technology hub at The Bays. In the midst of this lies Sydney Olympic Park, identified as a lifestyle precinct and with good reason.
"Unlike many new areas that will be developed for housing, Sydney Olympic Park already has an incredible lifestyle offering with 430 hectares of parkland, and established, cafes and restaurants.
"It has a well-established business hub with 230 organisations employing more than 17,000 workers, many of them in the smart industries of the future. And in the space of just a few years close to 3,000 apartments have been built and the resident population is currently pushing 7,000 people.
"All of this growth has been guided by the Sydney Olympic Park Masterplan which sets the blueprint for a sustainable and liveable community of 23,500 residents, 34,000 workers, 5,000 students and 100,000sqm of retail space by the year 2030.
This is your opportunity to live moments away from the metro, which will take you to the Sydney CBD in 20 minutes.
---
Important Notice: The above information is taken from the NSW Government's announcement on 27 April 2020 in relation to the proposed Sydney Metro West. Mirvac does not guarantee if and when this infrastructure will be built and purchasers should make their own enquiries. Mirvac does not provide financial advice and this material should not be relied upon as such. Purchasers should seek their own independent advice from an appropriately qualified expert. Current indications from the NSW Government are that, subject to completion of the final business case, it intends to start construction on the Sydney Metro West in the next term of Government.
*All Artist's impression were produced prior to planning approval, statutory approval and commencement of construction. The information and artist's impressions depicting the proposed interiors, exteriors and building amenities are intended only as a guide, are subject to change and are not to be relied on as representative of the final product. Views depicted are to be used as a guide only and is not to be relied on as representative of the final view. Views will vary depending on the level and location of the lot.